Sheraton Hotel Downtown Dallas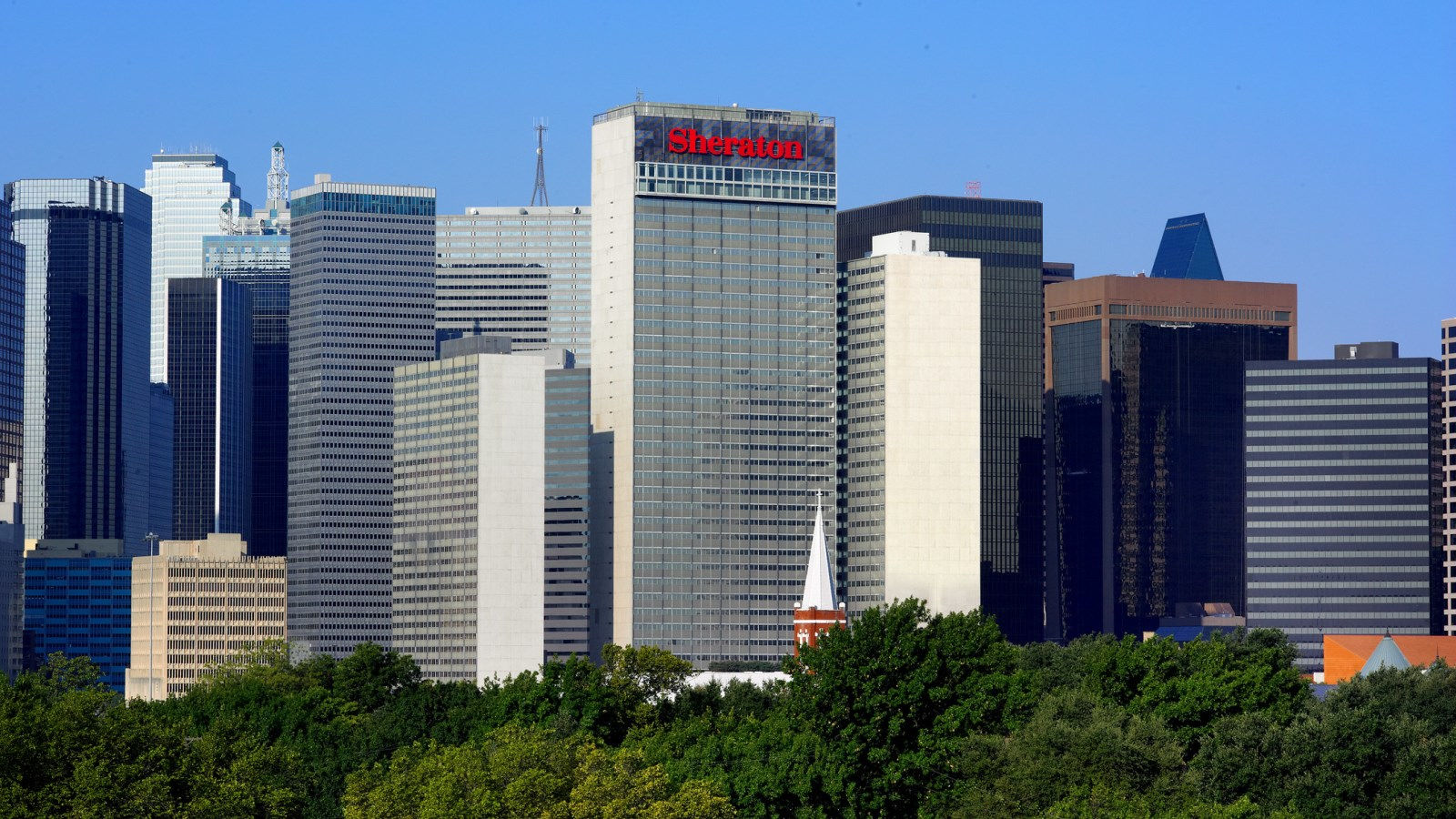 Hotel Overview
Downtown Dallas hotel located in the Arts and Entertainment District among shopping, restaurants, and entertainment venues.
In close proximity to the American Airlines Center, Fair Park, Cotton Bowl, and the Dallas Symphony.
Over 230,000 square feet of flexible meeting space highlight this Downtown Dallas hotel. View Hotel Map
400 North Olive Street
Dallas, Texas 75201
Phone: 214-922-8000
Fax: 214-922-0308
Toll-Free: 866-716-8134
Hotel Information
Check-in: 3:00 pm
Check-out: 12:00 pm
Express check-in and Express check-out
38 floors, 1,840 rooms, 222 suites
70 meeting rooms, 230,000 sq ft of total meeting space
Visit Penfield's (located on site) for any business and shipping needs
Pet Policy: Only cats and dogs that are less than 50 lbs
Internet Access
Complimentary Wifi in Club Lounge
Complimentary Wifi in Public Areas
Wireless High Speed Internet Access in Guest Rooms - 12.95 USD per day (up to 6 devices)
SPG Members - enjoy free standard internet access when you book through Starwood websites, mobile websites and mobile apps. Not a member? Join Now>>
Transportation
Go Yellow Checker provides a full range of Transportation options, through Yellow Cab for Taxi service, GO Yellow Checker Airport Shuttle Service, or GO BusinessExec Town Cars, SUVS, and Limos.
Taxi service to DFW is $42.60 plus $2.00 per each extra person. Taxis are available 24/7 from the Doorman, or see the Concierge
GO Airport Shuttles operate from the front door every 30 minutes to DFW, from 530am until 430pm, or by reservation. Fare to DFW is $17; Love Field is $19.
GO BusinessExec Town Cars and SUVs are available "on-demand" from the Front Door, or by reservation. Fares to DFW are $65 (Town Car) and $79 (SUV); Love Field rates are $55/$75
For reservations, please visit the kiosks in the Hotel Lobby, or call 214-841-1900

Parking
Parking rates for a 24-hour period with unlimited in and out privileges are $23 for self-parking or $31 for valet. Hourly parking rates are available for day visitors.
Daily Valet Parking:
0 - 20 mins - free
20 mins - 4 hours - $23
4-8 hours - $28
8+ hours - $31
Daily Self-Parking:
0-20 min: Free
20 mins - 2 hours - $15
2-4 hours - $20
4+ hours - $23
Link@Sheraton®
Free PC Workstations
Network/Internet printing
To print from your room, please go to www.printme.com, and use one of the following PrintME IDs - 215517, 215519, or 215520.
Lost and Found
For lost and found items, please send an email to 03207lostandfound@sheraton.com with the following information:
Your name:
A detailed description of the item(s):
The dates of your stay with approximate departure time:
The room number or location the items were last seen:
Your contact phone number:
Any additional pertinent notes:
You will receive a reply within twenty-four hours indicating whether or not the item is currently in our Lost and Found inventory and a reference number.
Firearms Policy
The safety and security of our guests and associates is of the utmost importance. The hotel prohibits any person from carrying any firearm in any manner onto the hotel premises, which are private property. Any firearm, whether it is a handgun or a long-barreled gun, carried onto the premises must be surrendered to hotel security for safe keeping. A guest who fails to abide by this policy may be asked to leave the premises.

Exempted from this policy are law enforcement officers and designated military personnel who are on duty and required to carry firearms in the performance of their duties. Civilians, even those who are licensed and permitted to carry a firearm openly under local, state, or federal law, are not exempt from this policy.